GENERAL TECHNICAL CHARACTERISTICS
- Stainless-steel construction - The parts in contact with the product are in 316L type stainless-steel - Motor power: 7.5 kw three-phase / 2800 rpm - Explosion-proof as specified in ATEX directive can be supplied - Maximum working pressure: 8 bar - Viton oil-seal - Inlet/outlet diameter: 50mm - Speed of rotation: 5000 rpm - Calculated hydraulic capacity: 4000 litres/hour - Working temperature range from -10° C to +90° C - Vertical pressure equivalent to: 2 m (without pump) - 3 rows of stators - 2 rows of rotors with a central fan - Different types of inlets/outlets on request - Cone for product injection made from 316L type stainless-steel (capacity: 40 litres) - Complete mixing with product recirculation - In specific applications the unit can be used "in-line" without recirculation - A stainless-steel base with adjustable studs supports connects the motor and homogenizer - Total weight: 100 kg
APPLICATION
The range of mixers-homogenizers is used to convert solids to liquids.
The ideal food-industry solution for adding protein, producing syrups, preparing brines, honey, jams, chocolate, cream, mayonnaise, purée, fruit concentrates, citrus juices and fruit pulp, tomato concentrate, sauces, homogenized food, various pâtés, condensed-milk with sugar, most cereals (dry or emulsified in water).
Additionally, it is the ideal blending solution for solid/liquids in the pharmaceutical, cosmetic and chemical industries.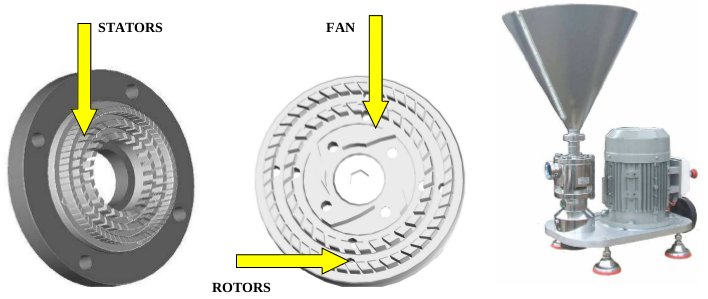 WORKING PRINCIPLE
The specific profiles of the central fan and the rotor and stator cutters aspirate the emulsion and transfer it radially towards the external opening. Perfectly balanced rotors permit high rotational speeds resulting in a very homogenized product. Blends can also be created using the 'venturi' method.
The use of interchangeable rotors and stators with different types of cutters allows blending and homogenizing of any product to the desired degree of homogeneity.